29 MAIN STREET
050-008
HD Map# 14A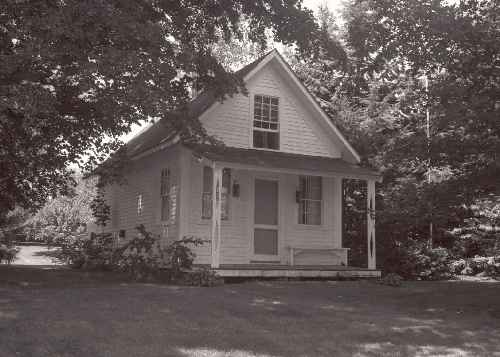 Overview of Historic District and Source of following text.
14A. Gates Shoe Shop, by 1864. Contributing building.
Located to the south of the main house and facing Main Street is a small 1 1/2-story, clapboarded building. Centered on the gablefront is a four-panel door flanked on each side by a 6/6 window with old, wavy glass. The facade is fronted by a shed porch supported by simple wooden posts with open cutwork. A small, single-story addition projects from the rear of the north wall.
This small building was used as a shoe shop by Joseph Gates. From newspaper accounts of his golden wedding, it is known that Gates was working in the shop in 1864. The building's exact age is not known. During the ownership of the Nichols family in the early 20th century the old shoe shop was turned into a garage. Sometime after Frank Walters purchased the property in 1932 the building was converted into a study/workshop.
Correction 2002 owner:" I was told and later saw in historic books that this wass a prefab cobbler shop ­ one ordered by mail. I have a great winter picture of house."